HOME
Welcome to Kevin Morgan Designs.
Kevin is a graphic designer from Canton, Pennsylvania. In January of 2006 he designed a Concept Trans Am based on the 2010 Camaro. He is proud to be working with the Trans Am Depot on the official S.C.C.A. licensesd Trans Am.

Kevin and Trans Am Depot did not stop with the Trans Am, they went on to build the 6T9 Trans Am & even brought back the beloved GTO with their 6T9 GOAT.

They have some new designs in the works so stay tuned! We are currently taking orders at TransAmDepot.com.

Thank you for visiting Kevin Morgan Designs.com


---
NEWS

---
2014 KM cars at SEMA in Las Vegas
click for a larger view



Please visit TransAmWorldwide.com to order your KM Trans Am or GTO today!


---
Pennsylvania State Police Tribute Rendering
HERE IS MY THANK YOU & TRIBUTE TO THE PENNSYLVANIA STATE POLICE!!! THANK YOU FOR YOUR COUNTLESS HOURS & EFFORT TO CAPTURE ERIC FREIN!!!

GOD BLESS ALL OF YOU!

SINCERELY,
KEVIN MORGAN
CANTON, PA


---

2014 KM Trans Am colors
click for a larger view



Please visit TransAmDepot.com to order your KM Trans Am today!

---

"He is Risen!" stop motion animation movie my son & I made for Victory Church in Troy, PA for Easter Sunday.


---
Mark Hall of Casting Crowns takes delivery of his KM Trans Am!


---
The KM Designed "GTO" in the December 2013 High Performance Pontiac Magazine. Cover & inside spread. click here for the full story.
---
2013 Hurst KM Trans Am official commercial - by Trans Am Depot
---
KM Trans Am "Blackbird" by Trans Am Depot


---

January 18, 2013

Performance Business Magazine recently featured TransAm Depot in a feature article called "Flying High".


Click here to read the story.
---
COMPLETED CARS
HURST TRANS AM

CAR #003
CAR #004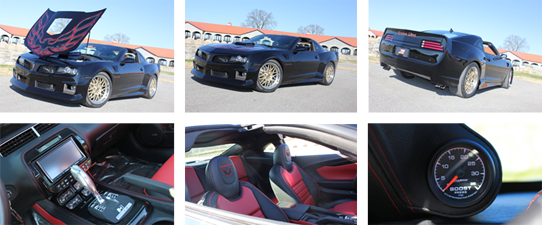 CAR #005
CAR #006
CAR #008
SILVER BULLET
CAR #010
CAR #011
BLACKBIRD
6T9 GOAT
6T9 TRANS AM
KM DESIGNS & OCC BIKES
---
SEMA 2012

FOX NEWS picks KM Hurst Trans Am as 2012 hottest new cars.
Click here to view.

GTSPIRIT.COM did a nice writeup of the KM T/A Blackbird at SEMA.
Click here to view.

MOTORTREND selected the KM Hurst Trans Am as a top 10 favorite rides at SEMA.
Click here to view.

COMPLEXRIDES picked our Hurst Trans Am as #2 out of the 25 coolest cars at SEMA!
Click here to view.

Here are some images from the SEMA show in Las Vegas.




The Blackbird Trans Am was commissioned by a former NBA superstar, drafted directly out of high school, who brought us his vision and dream for a one-off custom built modern Trans Am. Weeks of strategic planning gave way to months of design, engineering and fabrication. The end result .... anything but ordinary.




images from the Trans Am Depot booth at SEMA 2012!




Here is the KM HURST TRANS AM featured in the HURST PERFORMANCE booth.


---
NEW MERCHANDISE!



Please visit the store to see all of the KM TA Merchandise


---

2012 Trans Am Nationals

We would like to thank everyone who came out to the 2012 Trans Am Nationals! It was great seeing everyone again. Click Here for more photos.


---
Trans Am Depot Mini Doc Part 1 & 2





---
KM Designs / Trans Am Depot Promo Video
---
COMING SOON - KM OLDS 442 CONCEPT!!!
---
KEVIN MORGAN AND TRANS AM DEPOT SHOW "6T9 GOAT" (2012 GTO CONCEPT) AT THE 2011 SEMA SHOW

Trans Am Depot, Chip Foose, Kevin Morgan & Daniel Burns
from Gauge Marks
2012 6T9 Goat (GTO Concept) Convertible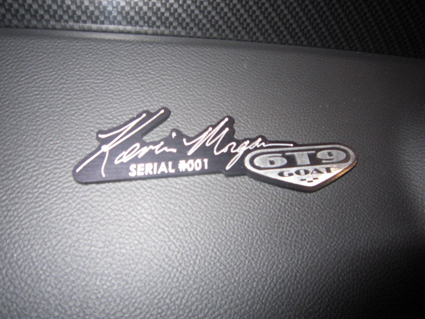 The Trans Am Depot Crew

We are currently going into production of this Kevin Morgan Edition 6T9 Goat. For More information on how to purchase yours, please visit www.TransAmDepot.com


---
Be sure to check out the October 2011 Issue of High Performance Pontiac.



Kevin Morgan / Trans Am Depot and Hurst Performance Vehicles collaborate on a modern-day tuner Trans Am. Read More Here.


---

Paul Sr. and the KM Hurst Trans Am - Click to view larger

Kevin Morgan and the Trans Am Depot on "American Choppers" showed the build & unveiling of Paul Sr's Kevin Morgan / Hurst Edition Trans Am. Also the 3 Motorcycles that Orange County Choppers built to match 3 of Kevin's car designs was featured. The cars shown are the KM Hurst Edition T/A concept, the KM GTO Concept & the KM 6T9 Trans Am convertible with 1200 horse to the rear wheels.


Paul Sr's KM Hurst Trans Am Concept - Click to view larger
Paul Sr flashing the peace sign in his new ride. - Click to view larger
Trans Am Depot - Paul Sr. - and Kevin Morgan

---
"Snowman's" tractor trailer. Kevin helped Tyler Hambrick, Greg Vassar & Walter Morgan install the graphics on this beautiful trailer.
---

FIREHAWK TRIBUTE VIDEO
Between 1996 and 2002 the Firehawk Trans Am set a new mark for style and performance. These highly collectable Pontiacs quickly became a favorite among Trans Am enthusiasts. On the eve of production of the Kevin Morgan designed and licensed Trans Am, Morgan and Trans Am Depot were commissioned to build their version of the Firehawk using their new production design. The owner of this 2010 Trans Am Firehawk has the largest collection of Firehawks in existence and a muscle car collection of over 300 show cars. The challenge given to Morgan and Trans Am Depot was to design and build a one-off "Firehawk" that would respectively honor and pay tribute to both the Firehawk name and legacy.




---
Be sure to check out the NEW MERCHANDISE in our Store! We have a brand new design on T-shirts, Posters, Can Koozies, Garage Banners & More!

---

Archived news & more
Page1 - click here.
Page2 - click here.
Page 3 - click here.


---
Kevin Morgan has been named "Official Designer of The Trans Am Nationals" in Dayton, Ohio